FLAMEKISSED roasted grains not only have a lot to offer as an attractant, but the nutritional value is outstanding. Grain roasting was first introduced as a method of improving the nutritional availability and palatability of grain to be fed to dairy cattle. In the dairy business, farmers see an increase in milk production, milk quality and protein absorption. The same results are seen in our deer herd. Our signature FLAMEKISSED roasting process assures that the aroma and nutritional availability of our FLAMEKISSED products are second to none.
• Corn, Soybeans, & Peanuts
• Long-range Roasted Aroma
• Attractant + Supplement
Feed free-choice in a spin cast, gravity, or trough style feeder. DO NOT feed moldy or insect infested feed.
Roasted Soybeans, Triple Cleaned Corn, & Roasted Peanuts.
PRIMARY DESCRIPTION
FLAMEKISSED - ALLROAST 50#BG
SPECIFICATIONS
Barcode / UPC :
787790577485
0 reviews for FLAMEKISSED - ALLROAST 50#BG
BACKWOODS ATTRACTION
$22.99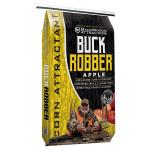 BACKWOODS ATTRACTION
$22.99
BACKWOODS ATTRACTION
$14.99