Arrowleaf Clover is very productive, and deer just plain out love it! Like crimson clover, it has a very high re-seeding potential, and, when maintained properly, can be utilized for years to come even though it is not a perennial variety. It has a great taste and is very digestible to deer.
• Provides a protein rich food source
• Adds nitrogen back to your soil
• It is an annual, but it does have high reseeding potential
• Quick establishing forage
We recommend broadcasting at 15lbs/acre and drilling at 10lbs/acre. For more information about designing and planting food plots, refer to our Food Plot Design Guide and Planting Guide.
PRIMARY DESCRIPTION
SMALL POUCH - ARROWLEAF CLOVER 6#BG
SPECIFICATIONS
Barcode / UPC :
787790575689
0 reviews for SMALL POUCH - ARROWLEAF CLOVER 6#BG
BACKWOODS ATTRACTION
$22.99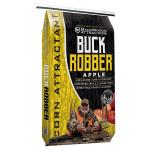 BACKWOODS ATTRACTION
$22.99
BACKWOODS ATTRACTION
$14.99