White Cloud Crimson Clover is the only white flowering crimson clover. It is faster growing, has a sweeter taste, and higher in protein than traditional crimson clover. Deer prefer white clover over red clover due to the bitter taste of most red clovers. Plant as the sole crop or mix with other food plot seed varieties.
Highly attractive to deer, turkeys, rabbits, and game birds
• Very high reseeding potential
• Fairly shade tolerant and grows well in most soils
• Faster growing, higher protein, and sweeter than traditional crimson clover
We recommend broadcasting at 30lbs/acre and drilling at 20lbs/acre. For more information about designing and planting your food plots, refer to our Food Plot Design Guide and Planting Guide.
PRIMARY DESCRIPTION
SMALL POUCH - WHITE CLOUD CRIMSON CLOVER 6#BG
SPECIFICATIONS
Barcode / UPC :
787790575887
0 reviews for SMALL POUCH - WHITE CLOUD CRIMSON CLOVER 6#BG
BACKWOODS ATTRACTION
$22.99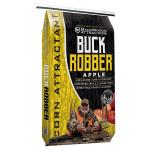 BACKWOODS ATTRACTION
$22.99
BACKWOODS ATTRACTION
$14.99